REMEDIAL THERAPY
Can relieve many stresses and pains in the body including: arthritis, joint pain, pre & post operation, sports injuries, IBS or aches and pains of daily life. Manipulating soft tissue improves the range of joint movement and muscle flexibility, resulting in a healthier body. Our specialists are booked on a one to one basis with a consultation on your first visit.
SPORTS MASSAGE
Is a sophisticated hands on deep tissue treatment which combines the use of a variety of well established massage and manipulative techniques to manage soft tissue. Sports massage assists in the prevention of and recovery from injury as well as restoration of soft tissue function, thus allowing you to maintain a healthy body. Posture and balance can also be corrected using a combination of SM techniques and more advanced myofascial and structural integration techniques.
DEEP TISSUE MASSAGE
This is a type of massage therapy that focuses on realigning deeper layers of muscles. It is used for chronic aches and pain such as a stiff neck, upper back, low back pain, leg muscle tightness, and sore shoulders. Pressure is deeper than in regular massage therapies and is concentrated on areas of tension and pain.
AROMATHERAPY MASSAGE
Combines essential oils with massage to reduce stress, promote deep relaxation and can help with depression, digestive problems, insomnia and more. A blend of oils will be created specifically for you to meet your exact requirements.
HOT STONE MASSAGE
Providing an all encompassing mind, body and soul experience, it will leave you totally relaxed. Using warm volcanic basalt stones, we tailor the massage to meet individual needs.
INDIAN HEAD MASSAGE
Based on the ayurvedic system of healing which has been practiced in India for over a thousand years. The aim of Indian head massage is to release the stress that has accumulated in the tissues, muscles and joints of the head, face, neck and shoulders. The release of This is mind-blowingly relaxing!
Please take a moment to browse our therapist treatment menu by clicking on the links to the right.
Signature Treatments with Lisa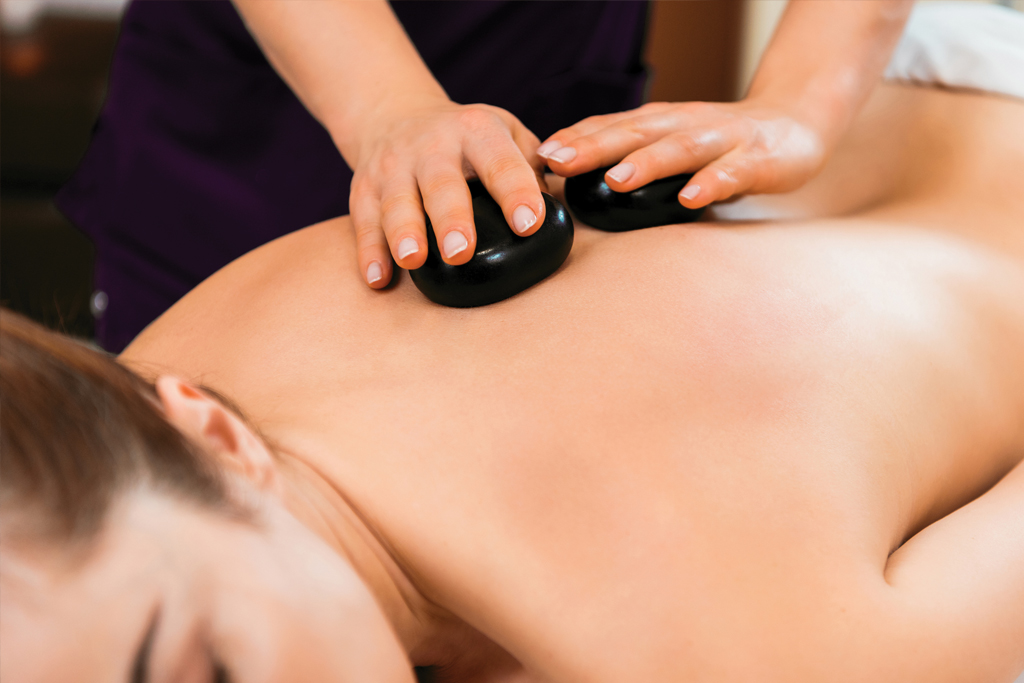 A warm stone,  foot and leg massage to stimulate circulation.
An excellent treatment for diabetics, Raynards sufferers or for anyone who simply adores a great foot fuss !
A gentle and soothing head,neck and shoulder massage using warm stones.  A fantastic treatment for general de-stressing, but also particularly beneficial to sufferers of the dreaded tinnitus or menopausal symptoms. If you are in need of a deeply relaxing, all encompassing treatment, you will love this one !
Mmmmmm. An absolutely stress melting facial indulgence.
Using soothing warm stones as a massage medium, paired with a nourishing blend of facial oils, this treatment works to protect your skin against the harsh winter weather.  Your face will look and feel fabulous after this signature treatment.
50 minute Treatments – £45